If you're a sprint car fan, aspiring driver or an experienced veteren, we've got a program to feed your curiosity or your level of experience. Our students and drivers are ready to go fast (or at their own speed)! Choose a state-of-the-art Sprint (winged or wingless). Our Open Wheel Driving School™ or Rent-A-Ride™ programs offer an excellent opportunity to experience the thrill of sprint car racing.
The Open Wheel Driving School takes students through the critical elements of the car, safety practices, car controls and on-track driving techniques. For the driver who wants to get actual race seat time, the
Rent-A-Ride program offers a fully preparred race car to compete at a choice of two different dirt track venues.
We're Ready to Push Off!
Our 2015 Open Wheel Driving School Schedule is now set!
The School kicks off the season at 141 Speedway in Francis Creek, WI on Monday, May 18th. The season continues on Mondays on June 15th, July 20th, August 17th, September 21st and closes out on Monday, October 10th. Book now and reserve your seat.
Offered again in 2015 our "Three to Go" Driving Special
You and two friends can attend our Driving School taking part in the class session then splitting the 21 lap on- track session into 7 laps each. This is perfect for the curious fan or a driver who would like to get the feel of a full sized sprint car. The cost is $250.00 for each member of your group (available to a pre-registered group of three only) with additional laps priced at $15.00 each. See our School schedule, sign up and join us for the ride of your life. See our flyer in the Multimedia section of our site.
Go to the Multimedia Page for more information and updates or Contact Us for the drive of your life.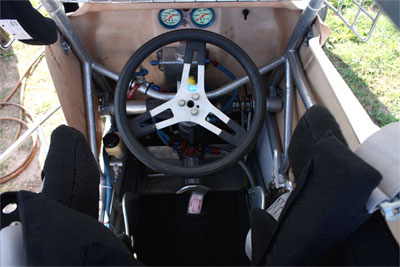 Your seat is waiting